Comparison of three systems for cutting and handling large format tiles from RUBI, Battipav and Kaufmann.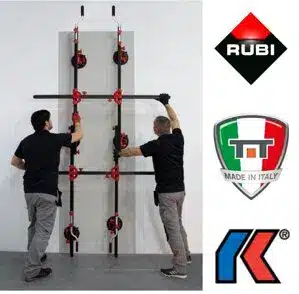 Nowadays, the modern trend of installing large-format tiles is becoming more and more popular. It is not unusual for a large format tile to have a side length of more than 2 metres. For the installation of such large and heavy tiles, conventional tools will not be enough. That is why several manufacturers offer tools and systems for working with large format tiles. In this article we would like to introduce you to the products of 3 manufacturers – RUBI, BATTIPAV and KAUFMANN, which you can also find in our shop. To make your decision easier, we will compare their features and technical parameters.
We start by introducing the systems
The RUBI brand has more models available for working with large format tiles:
RUBI SLIM System
Circular saws RUBI TC with accessories
RUBI SLAB System
RUBI SLIM System is a group of products designed for cutting and handling large format tiles. The system consists of:
The RUBI TC series circular saws in combination with guide rails and other accessories allow cutting large format tiles. The manufacturer offers the following models:
The RUBI SLAB System is a range of products designed for the most demanding large format tile jobs. It consists of:
The Italian manufacturer BATTIPAV has a narrower range of tools for working with large format tiles. The offer consists of: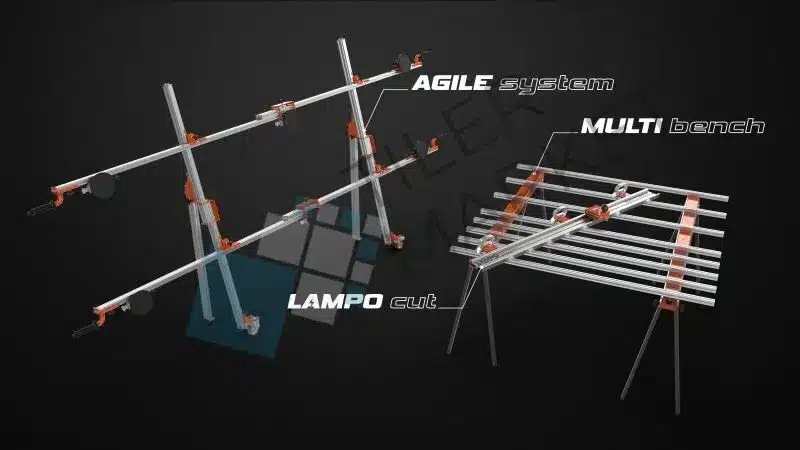 The Austrian manufacturer KAUFMANN offers 1 product for working with large format tiles:
Comparison of cutting tools
The table clearly shows the characteristics of the individual cutting tools, including electric cutters suitable for large formats.
| | | | | | |
| --- | --- | --- | --- | --- | --- |
|   | RUBI SLIM CUTTER PLUS | BATTIPAV LAMPO Cut | KAUFMANN TopLine Pro Rail | RUBI TC-125 saw with set of bars and clamps | BATTIPAV SUPREME 320S INFINITY saw |
| Max. cut length (cm) | 310 | 320 | 335 | 320 | 320 |
| Max. material thickness (mm) | 10 (15 with additional breaker) | 25 | 8 | 25 | 85 |
| Length of bar/table (cm) | 110 | 165 | 172,5 | 110 | 320 |
| Number of rails | 3 | 2 | 2 | 3 | – |
| Breaking tool | Yes | Yes, 2x | Yes | No | No |
| Suction Cup | 3x | 3x | 6x | 2x | No |
| Cutting wheel/disc | EXTREME ø22 mm | ø15 mm, ø22 mm | Ø16 mm | Ø125 mm | No |
| Bag | Yes | No | Yes | Yes (briefcase + bag) | No |
| Power | – | – | – | 230 V | 400 V |
All tools use cutting trolleys that move along the rails using quality wheels with bearings. All of them allow cutting tiles with a minimum length of 310 cm. Kaufmann's TopLine Pro Rail with a maximum length of 335 cm excels in this parameter.
The bigger differences are in the maximum thickness of the material to be cut. Here the Battipav Lampo Cut system stands out, which allows cutting tiles up to 25 mm thick. It can handle this thickness thanks to two breaking tools, one of which is designed specifically for thicker tiles. With the RUBI tool, you can cut tiles with a thickness of 10 mm, approx. 15 mm with the purchase of the RUBI breaking tool (Ref: 18917). In this parameter, the TopLine Pro with max. material thickness 8 mm. Electric saws also allow you to saw thicker materials. Their thickness depends on the blade size, 25 mm for the RUBI TC and 85 mm in 1 stroke for the Battipav Supreme.
All 3 handheld cutting tools and the RUBI TC saw use the principle of joining several strips into one piece and fixing it to the tile using the supplied vacuum suction cups or clamps. The cutting trolley or saw then moves along the connected rails.
The three manual cutting systems have breaking tools and cutting wheels in the package. The Battipav is supplied with both two breaking tools and two wheels. The RUBI TC-125 electric saw is supplied with the RUBI TCR-125 SUPERPRO diamond cutting blade.
In terms of portability and storage, only Battipav does not supply their tools with a bag. With the Supreme saw this is understandable, with the Lampo Cut you will need to purchase the bag separately.
The advantage of manual cutting systems over electric cutters will certainly be cleaner work, less noise and work without the need for electrical power. The advantage of the TC and Supreme electric cutters is their more versatile use and more comfortable cutting of thicker materials with the possibility of water cooling. Another disadvantage of the Battipav Supreme electric saw is its higher price.
Comparison of handling systems


Handling systems are only offered by RUBI and Battipav. Both manufacturers offer high quality profiled mouldings, options to adjust the length of the mouldings, ergonomic handles, high quality vacuum suction cups for safer and easier carrying and installation of large and heavy tiles. A simpler system from RUBI is the SLIM EASY TRANS, which competes with the AGILE System Light from Battipav. The Battipav has a slightly higher load capacity, but you can increase the RUBI system's load capacity up to 110 kg with the addition of vacuum suction cups and crossbars.
Manufacturers also offer more robust handling systems, such as RUBI SLAB TRANS HEAVY DUTY and BATTIPAV AGILE System. The SLAB TRANS stands out for its better support of tile dimensions, while the AGILE System features a load capacity of up to 240 kg and a mobile trolley that makes it easy to carry. The RUBI SLAB TROLLEY mobile trolley can be purchased separately for both RUBI systems.
Accessories
Both RUBI and Battipav also offer other accessories for cutting tools and handling systems. Workbenches with superior dimensions are offered by both manufacturers:

Both tables have a folding design, the possibility of combining several tables into one, but only the Battipav offers the possibility of connecting to an electric saw, thus you can expand the working area of the saw. The advantage of the RUBI SLAB table is a higher load capacity of up to 250 kg compared to 200 kg for the Battipav MULTI Bench.
RUBI also offers other accessories for its systems, such as cross bars (Ref: 18819) for the SLIM EASY TRANS, additional vacuum suction cups (Ref: 18827) for the RUBI SLAB TRANS HEAVY DUTY, the RUBI SLAB mobile trolley, vacuum suction cups (Ref: 18957) for the TC-125 saw or the breaking tool (Ref: 18917).
A new and improved SLIM EASY TRANS PLUS handling system will soon be available in our shop.
Vacuum suction cups (Ref: SP11032) can be added to the Battipav AGILE System to increase its load capacity.
In our shop you will also find complete sets for cutting and handling large format tiles at better prices than when buying individual products.
We hope that this article has helped you to get a better understanding of the range of tools available for working with large format tiles. A wide range of tools and accessories for large tile formats can be found in the separate trade category. If you still need advice, we are at your disposal.
This article was written in cooperation with profiobkladac.sk