In today's blog we take a closer look at diamond blades and their blades. We will explain how to choose the most suitable blade for cutting certain materials.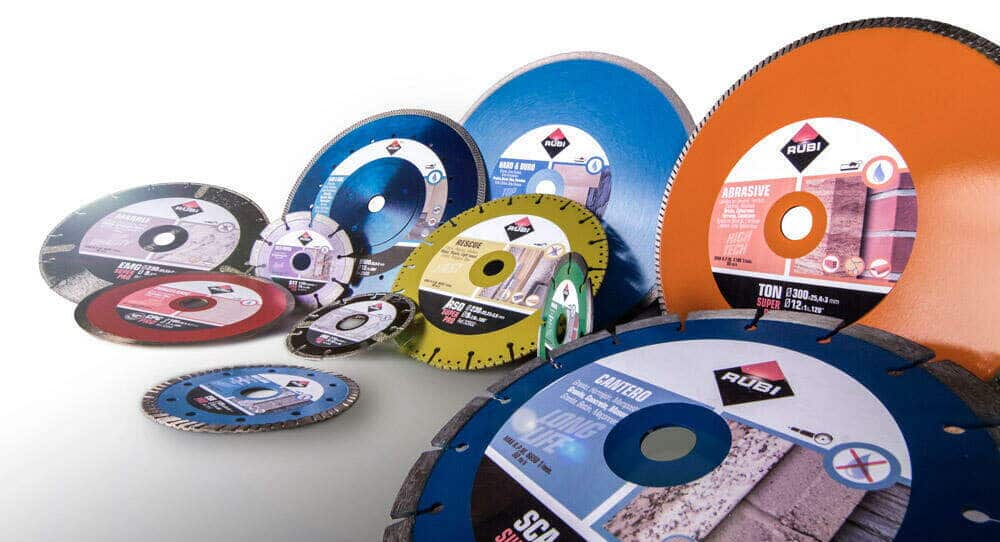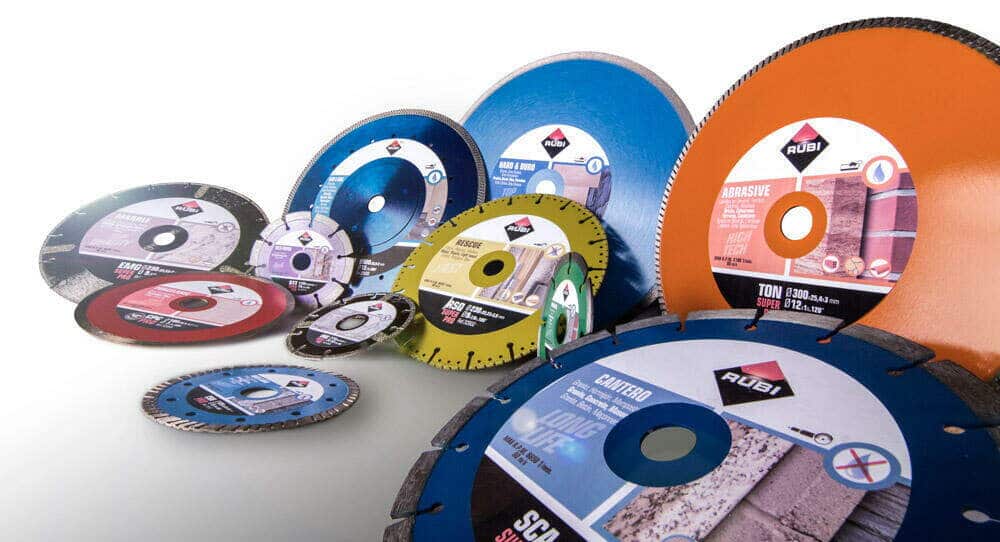 You will have already solved the problem of what type of diamond blade would be most suitable for cutting the tiles you are about to lay. That is to say, every proper diamond tool manufacturer produces several different types of blades, which have specific blades with specific characteristics and which are designed for different types of materials and tiles. When choosing, however, do not forget about your cutting needs, e.g. cutting speed, quality of cut or blade life.
In today's blog we take a closer look at diamond blades and their blades. Knowing how the blades are designed and how they work will help us better understand what type of blade we need to cut different types of tiles. We will explain the different types of blades using RUBI products, which you can also find in our shop. Some people may find it difficult to find their way around such a wide range of products.

WHAT ARE DIAMOND WHEELS?
Diamond wheels consist of a circular body, usually made of steel, called the "core". The core has a superabrasive cutting material on its periphery in the form of a continuous crown or divided in segments. This cutting material, also called diamond grain (strip, segment), can be bonded to the core of the blade in a variety of ways, but the most commonly used method by RUBI is laser welding.

DIAMOND GRAINS
Diamond grains can be attached in 3 different ways, they are sintering, electroplating and vacuum brazing. In the case of specific ceramic cutting wheels, however, we usually talk about sintering. In sintering, diamond particles are mixed with a metal binder and spread out by pressure and temperature to form a system with different layers of diamond that are gradually exposed as the tool wears.
THE RELATIONSHIP BETWEEN GRAIN SIZE, DENSITY AND HARDNESS OF THE BINDER
The relationship between the diamond grain size, its density and the hardness of the binder varies depending on the requirements of the blade.
For hard materials, a small grit with a high density of diamonds and a soft binder is used.
For abrasive materials, a large grain size with low diamond density and a hard binder is used.
For universal blades designed for most types of materials, large grit size, low diamond density and soft bonding agent are used.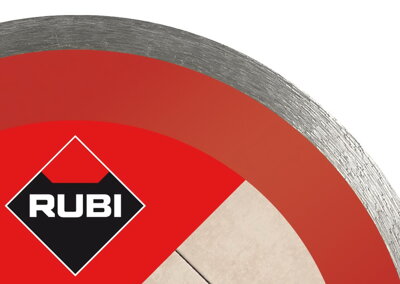 Ideally, both types should be used simultaneously. If we have a soft binder, the metal will wear away and the diamond will always come to the surface, so we can cut efficiently. In this case, however, the blade life will be negatively affected when cutting abrasive materials. On the other hand, if the bonding agent is too hard, the diamond on the surface will wear away without being replaced by a new diamond because the bonding agent will not wear away and the blade will lose its cutting efficiency. In this case, the disc is referred to as "blunt".
To solve this problem, we can use a cleaning block, which is a superabrasive block material that wears away the blade binder and "brings" the diamond particles from the lower layers to the surface.
TYPES OF SINTERED DIAMOND DISCS
All-round blade: Provides the best surface finish. Used for cutting ceramic or other stone facing materials up to 25 mm thick.
TURBO: A great combination of features. High performance and cutting speed with high quality surface finish.
VIPER: It is an evolution of the TURBO blade with higher quality and cutting speed. It is designed exclusively for high hardness materials.
Segmented: fastest. Maximum speed and better blade cooling. For cutting materials with a thickness of more than 25 mm.
TURBO segmented: for cutting all types of materials at maximum speed.
J-groove: state-of-the-art technology. High cutting speed suitable for the hardest materials. Specially designed for direct cutting of porcelain stoneware. Eliminates tension arising during cutting.
Remember, the higher the cutting speed, the lower the cut quality and vice versa. The discs with the most balanced speed/quality ratio are of the type TURBO and VIPER .


In the video you can see how to work with a 250 mm CEV SUPERPRO diamond blade on a RUBI DC-250 850 gantry saw:
HOW TO CHOOSE THE RIGHT DIAMOND WHEEL?
Now that we know how blades are made, how they work and what their types and characteristics are, there are 3 important things to consider when choosing a diamond blade:
1. WHAT TYPE OF CUTTING WE ARE GOING TO PERFORM
Depending on the type of cutting we are going to do, we need to think about what type of machine we are going to use: an electric cutter or an angle grinder? And consequently, what type of cooling will we have available?
We always have to bear in mind that blades cut by friction and that they are superabrasive tools. During this friction (cutting), high temperatures are generated, which has led to 2 different types of cutting: wet cutting and dry cutting. In dry cutting, cooling is provided only by the airflow generated by the rotating wheel itself. Dry cutting wheels can be water-cooled for longer life and better cut surface finish, but wet cutting wheels should never be used without water cooling.
RUBI offers cutting wheels for dry and wet cutting. So we need to know what machine and what kind of cooling we will use before we make a decision.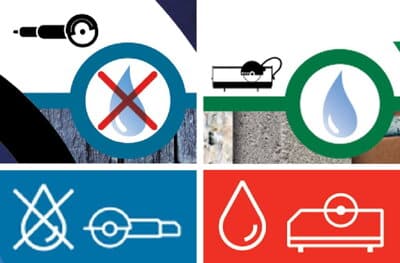 2. TYPES OF MATERIALS TO BE CUT
The second thing we need to take into account is the type of material being cut. When we talk about cutting ceramic tiles, these belong to the group of siliceous materials. These materials, which consist mainly of silica, have a medium to high hardness, although some may also have a very high level of abrasiveness.
The most common silicate materials include the group that interests us: ceramic materials such as tiles, glazed stoneware or porcelain stoneware. This group also includes glass and granite. Therefore, due to the hardness of these materials, we will need a combination of small grit with a high concentration of diamonds and a soft binder that wears at the same time as the diamond to prevent the blade from dulling and to ensure that the tool continuously has good performance.
3. CUT SPEED vs. CUT QUALITY
The third thing to consider is the need for cutting speed and the resulting quality of the cut. This depends on the type of cut we are going to make. There is a difference between a straight or diagonal cut, where we may need speed, and a mitre cut, where we will primarily need precision and quality of cut.
Not all blades are suitable for all types of cutting. For angled or mitre cuts, we need blades with sufficient reinforcement and core thickness to withstand a 45° angle cut (Jolly edges) without damage. The minimum core thickness for angle cutting varies depending on the diameter of the blade.
In summary, when selecting the right blade, we need to consider whether we will be wet or dry cutting (depending on the machine used), the hardness of the material, and consider the need for cutting speed and/or a quality surface finish. Knowing this, we are ready to choose the most suitable blade for cutting our tiles.
RANGE OF RUBI DIAMOND DISCS
From the wide range of RUBI diamond blades in our shop we can highlight the following types.
FOR DRY CUTTING:
CPR : Suitable for fine cutting of porcelain stoneware with thickness less than 20mm, full circumference blade is recommended. It provides one of the best finishes. It is available in 115 and 125 mm diameters.
TCR : TURBO type wheel, recommended for fine cutting of porcelain stoneware with high performance and cutting speed with high quality cut surface finish. Available in 115, 125, 180 and 230 mm diameters.
CPJ : J-groove wheel, increases the cutting speed of very hard porcelain stoneware tiles and at the same time reduces the tension generated during cutting. Available in 115 and 125 mm diameters.
FOR WET CUTTING:
CPC : All-round blade, recommended for fine cutting of porcelain stoneware tiles with thickness less than 20 mm. It is particularly recommended for cutting at an angle. It is available in diameters of 180, 200, 230, 250, 300 and 350 mm.
TPI : TURBO type wheel, recommended for cutting porcelain stoneware at an angle. Provides high stability and cutting speed. It is available in diameters of 200, 230 and 250 mm.
CPX : J-groove wheel with the latest technology for high-speed direct cutting of porcelain stoneware. It is available in diameters of 200, 250 and 300 mm.
RUBI DIAMOND DISC COLOUR CLASSIFICATION
In addition to the above blades, we also offer many other models of RUBI blades for you to choose from based on your requirements. To make your choice easier, RUBI uses a colour division of the discs. Each colour tells us what use or application the roll is originally intended for:
COLOUR DISTRIBUTION:
Red: particularly suitable for cutting porcelain
Purple and dark green: discs, for universal use, for various building materials
Green: for common ceramic materials
Blue: for hard materials
Orange: for abrasive materials
Grey: for marble
Yellow: universal discs for rescue work
We hope that our blog has helped you to find your way around the wide range of RUBI diamond cutting wheels. We believe that after reading it, your choice of the most suitable reel will be quick and correct. But don't forget two more essential things that can affect the outcome of your work and your satisfaction with the diamond wheel:
Choosing the right cutting tool – electric saw/angle grinder. The suitability of the tool for the type of cutting and the knowledge of its operation are important.
Correct cutting technique – can significantly affect the quality of the cutting. Even a properly selected and high quality diamond wheel can be destroyed very quickly with poor cutting technique.
Article created in cooperation with profiobkladac.sk